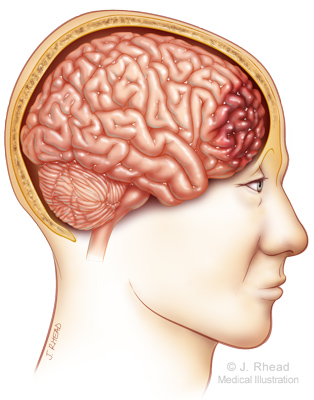 Jill Rhead has been creating accurate, understandable and appealing medical and scientific imagery for nearly 30 years. She has been a member of the Association of Medical Illustrators (AMI) since 1993, is a Fellow of the association, and is a current board certified medical illustrator (CMI). In 2009, she was elected to serve on the AMI's Board of Governors for a four-year term, and has volunteered on many other committees throughout her membership.
She graduated from the University of Utah with a Bachelor of Fine Arts degree with an emphasis in drawing and painting and later received her Master of Arts in Biomedical Communication from the University of Texas Southwestern Medical Center at Dallas. She works full time as a medical illustrator in the Department of Surgery at Intermountain Medical Center in Salt Lake City, Utah and has been employed by Intermountain Health since 1995. She also runs a successful freelance business doing the same.
Jill and her husband Nikk live at the base of a beautiful mountain range in the Salt Lake valley with their two crazy rat terriers.
CLIENT LIST
Advanced Orthopedic Solutions
Amirsys
Angioma Alliance
Bard Medical
Baxter International
Edwards Lifesciences
Ethicon
Forex Medical
Henry Schein
The LAM Foundation
Libman Education
NeoChord, Inc.
Nexus Spine
Novo Nordisk
Ortho Development
Ranbaxy Pharmaceuticals, Inc.
Sanacor
Springer
Synovis Surgical Innovations
Utah Medical Products, Inc.
Law Firms
Eric Nielson & Associates
Matthew W. Sowell, P.A.
Snow, Christensen & Martineau
Strong & Hanni
Books
"Cardiac Surgery Operative Technique" 2nd edition, Donald B. Doty, John R. Doty
"Kirklin/Barratt-Boyes Cardiac Surgery" 3rd edition, Editors: Kouchoukos, Blackstone, Doty, Hanley, Karp"
"Thoracic Surgery Atlas" 1st and 2nd editions, Mark K. Ferguson
"Global Surgery and Public Health: A New Paradigm" Catherine R. deVries, Raymond R. Price
Journals
American Journal of Surgery
Annals of Cardiothoracic Surgery
Annals of Thoracic Surgery
Clinics in Chest Medicine
Contemporary Urology
Heart
Journal of the American College of Cardiology
Journal of Cardiac Failure
Journal of Surgical Research
Journal of Thoracic & Cardiovascular Surgery
Mayo Clinic Proceedings
Nursing
OBG Management
Operative Techniques in Thoracic & Cardiovascular Surgery
Seminars in Thoracic & Cardiovascular Surgery